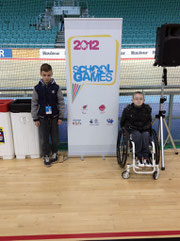 The Winter Games was held on Tuesday 1st April. Various teams who won their own borough event were then given the opportunity to compete in the winter games.
Here is the results for Rochdales teams:
Basketball - Meanwood Primary School 5th Place
Disability Gymnastics - St Lukes & St James 2nd Place
Hockey - Crossgates 2nd Place
Inclusive Tennis - Falinge Park
New Age Curling - Smithy Bridge 3rd Place
Y7/8/9 - Matthew Moss & Kingsway
Rugby Union - Smithy Bridge 1st Place
SLD - Redwood
Sports Hall Athletics - Norden 4th Place
St Johns RC 5th Place
Squash - Beech House 4th Place
Swimming - Primary boys - 6th Place
Primary girls - 4th Place
Secondary Boys - 5th Place
Secondary Girls - 7th Place
Disability Primary - 1st Place
Disability Secondary - 2nd Place
Volleyball Under 13s - Siddal Moor 2nd Place
Under 15s Boys- Siddal Moor 3rd Place
Under 15 Girls - St Cuthberts 2nd Place
Well done to all teams who participated.